Ridiculously easy
paycheck calculator
How much are your employees' wages after taxes? It's a simple question with a complex answer. Now, you can use this powerful online payroll calculator tool from Roll to perform gross-to-net calculations to estimate take-home pay in all 50 states.
Simply fill out the fields below to the best of your knowledge and get your earnings estimate. Just give us the data and our gross income calculator will do the math for you. If you get stuck, visit our handy paycheck calculator guide to learn more.
Important note on the salary paycheck calculator: The calculator on this page is provided through the ADP Employer Resource Center and is designed to provide general guidance and estimates. It should not be relied upon to calculate exact taxes, payroll or other financial data. These calculators are not intended to provide tax or legal advice and do not represent any ADP service or solution. You should refer to a professional advisor or accountant regarding any specific requirements or concerns.
Own a small business? Skip crunching numbers!
Roll runs payroll for you.
Learn More
Salary paycheck calculator guide
Sure, our salary paycheck calculator does a lot of heavy lifting—but it still may be helpful to take a closer look at a few of the calculations that are essential to payroll.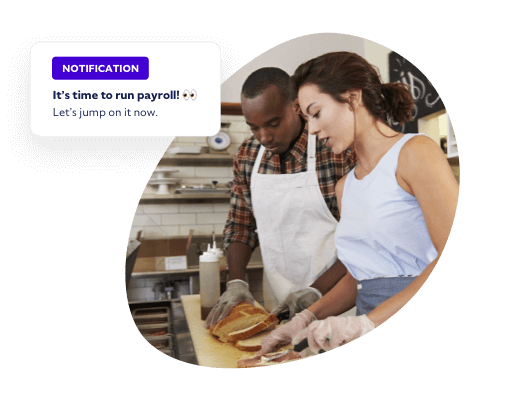 Anatomy of a paycheck
While most paychecks may look largely the same, their delivery schedules can change from business to business. Numerous variables can dictate how often paychecks are disbursed, including applicable state laws and regulations, and even your own preference as an employer. Check out our blog to learn how to choose the right pay schedule for your business.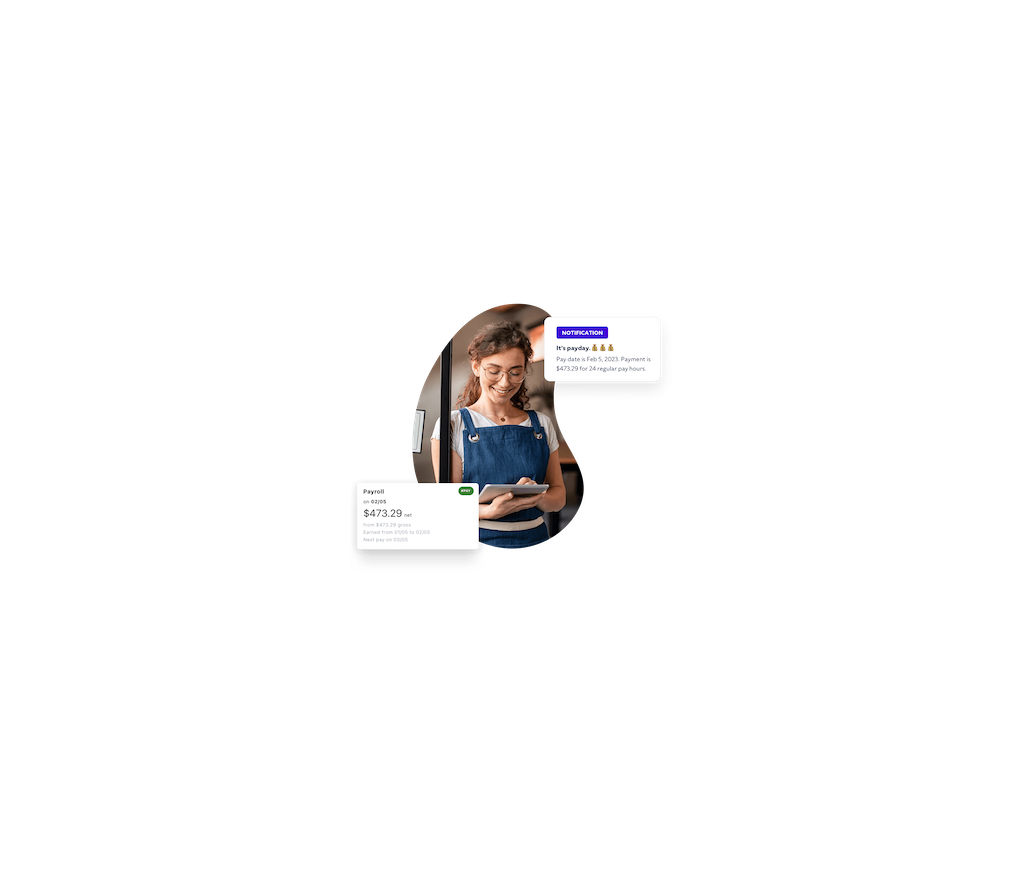 Paycheck essentials
Regardless of their frequency, all paychecks should contain the same basic information.
Check number
Employer's name and address
Employee's name and address
Check date
Payment amount
Employee's bank account and routing numbers
Check memo (optional)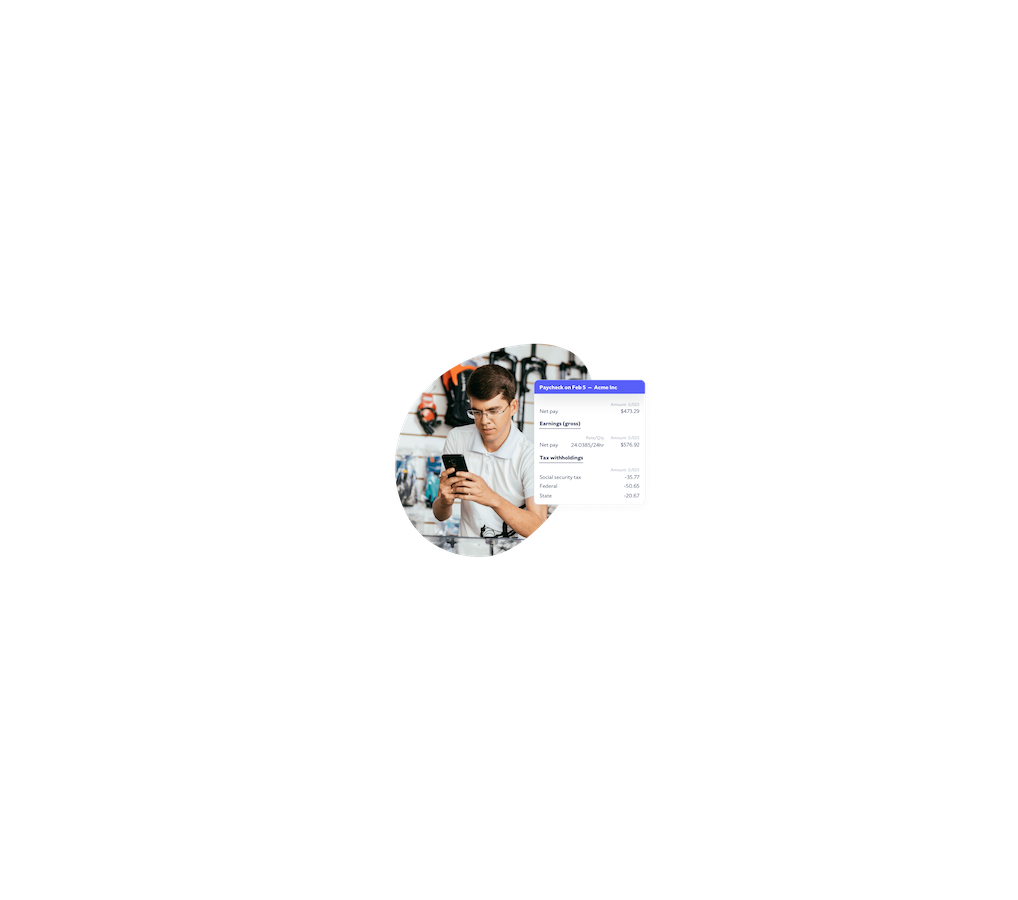 Pay stub basics
Most states require you to provide each employee with a pay stub as well. These typically come with paychecks and list details such as:
Pay period start and end date
Hours worked
Gross pay
Net or take-home pay
Federal and state income taxes
Local taxes
Medicare and Social Security taxes
Deductions for benefits
Wage garnishments
Year-to-date totals
Paid time off (PTO) balances
The Roll dictionary for complex payroll terms
While our annual salary calculator does everything for you automatically, it's always good to be familiar with the various deductions affecting how much money your employees are actually bringing home. To help you calculate as accurately as possible, we've put together this brief guide of important terms.
Frequently asked questions
How do you calculate annual income?

A simple method is to multiply the total income (before tax deductions) by the number of pay periods in a year to find the annual salary. For example, if a worker earns $2,500 bi-weekly, their pre-tax annual income would be 1,500 x 26 = $39,000. However, this doesn't include taxes, deductions and other variables. Roll's income calculator takes this headache out of the equation, accounting for the various factors that can affect someone's pay.

Is a pay stub the same as a paycheck?

What should a pay stub look like?

Pay stubs typically contain information like hours worked during a particular period, net income, taxes withheld, the employee's voluntary deductions, other benefits received, and more. [See above for a full list.] Additional information may be present on the stub depending on state or local requirements.

What should your employees do with their paycheck stubs?

Pay stubs are most often used to verify payment accuracy, so they might be needed to settle wage or hour disputes. It's always a good idea for employees to hang on to their pay stubs, though they are by no means required to do so.

What should you do if your employees don't receive their paycheck or their paycheck is late?

First, check with your HR department (if you have one) to see if the cause was a simple honest mistake. From there, depending on the reason for the missed or late paycheck, you can chart out your next course of action.

If you notice that your paychecks are regularly arriving late or having issues with delivery, follow this process:

Order check stock from an office supply store or the bank that has the business payroll account and print the checks yourself each pay period.
Work with a payroll provider to automate tasks for you.
Ready for Roll to do the calculating for you and your employees?
Our take-home pay calculator is designed to make your job easier so you can focus on more important things — like running your business. Ready to get started? Here's how it works.
Automated
Roll automatically covers payroll calculations and vital tasks—no missing payday ever again!
Unlimited
All the payroll runs you need in all 50 states—for every type of employee, including W-2s and 1099s.
Assurance
Calculations are backed by ADP—the largest payroll provider in the U.S.—with in-app 24/7 chat support available in English and Spanish.
Get Roll-ing, small business owners start
3 months free
Download the app today and claim your free trial.
Download
Install the app and set up your business in just 15 minutes.
Chat
Start running payroll ASAP. Just chat "Run my payroll".
Pay
Finish payroll in under a minute.
Have questions about Roll?
Success!
Thanks for reaching out.
Someone from Team Roll will reach out shortly.
You will receive a confirmation email momentarily.
---