Intelligent Assistance
Roll by ADP is smart — getting to know you and your small business to help you run things even quicker over time. Powered by AI, it stays ahead of payroll tasks and deadlines so you can stay focused on the important stuff.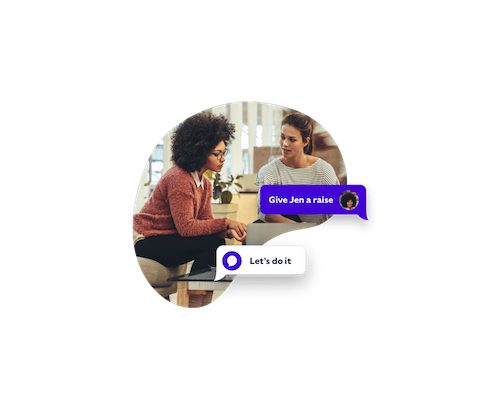 AI-driven small business app
At the heart of Roll is a chat-based technology that allows you to make changes the same way you would text a friend. Need to give Jen a raise? Just open up the app and type "Give Jen a raise." Want to give Steve a bonus? Type "Give Steve a bonus" and go from there.
Roll will learn the nuances of your business and adapt to meet your needs.
Your very own payroll assistant
Roll learns the ins and outs of your business to effortlessly manage payroll, so you can put your focus where you want it.
Alerts and notifications
Roll lets you know when it's time to do payroll (and other important stuff). All you have to do is chat back.
Timeline to-dos
Never wonder what comes next. Roll gets to know the rhythm of your business and lines up your next to-dos in advance.
AI-driven error checks
Roll analyzes your payroll in real time to make sure it's in line with your normal run. And if not, Roll will alert you just in case. Because Roll always has your back.
Payroll alerts and notifications
Roll will send regular payroll reports when you need them, as well as information on new hires once they're in the system. It'll also automatically handle deductions, garnishments, taxes and more.
Because Roll learns with you, you'll get the right alerts and notifications when you need them — all right at your fingertips.
Ready To Roll?
No training. No long-term contract. No hassle.
Download
Install the app and onboard yourself in just 15 minutes.
Chat
Start running payroll ASAP. Just chat run my payroll.
Pay
Finish payroll in under a minute.
Try 3 months free*
Have questions about Roll?
Success!
Thanks for reaching out.
Someone from Team Roll will reach out shortly.
You will receive a confirmation email momentarily.
---